"The earth is the LORD'S, and all it contains, the world, and those who dwell in it."
In the quest towards national economic recovery and sustainable economic growth we have so far discussed smart solutions for (1) constitutional reform, (2) public-private partnerships, (3) the political process, (4) decentralized government, (5) innovative taxation, (6) debt restructuring, (7) innovative economic growth and (8) people development.
In today's column, we address sensible smart solutions for (9) optimal land and marine use. All countries have a land resource and all non-landlocked countries, additionally, have marine resources determined by the United Nations Convention on the Law of the Sea.
Countries in the Caribbean are either islands or communities with cities or towns near the water or coast. Hence  the government of each country has the responsibility to set policies to optimally and beneficially exploit these land and marine resources in the best interest of its people. The issue may be stated as an optimization problem which ultimately minimizes the waste of these resources.
A land use policy and associated budget allocation must include a buildings provision for houses, schools, businesses and recreation. The communication requirement would imply efficient and effective road and transportation networks.  Ecosystems would have to be maintained around our rivers and wetlands and mining for oil, gas, sand and bauxite are important.  Recreational facilities for outdoor, indoor and water sports are essential. The allocation of land linked to tourism linkages (golf courses, accommodation, services) is important but so too is the allocation of land for immediate and prospective agricultural purposes.
Rain-fed and non rain-fed agricultural opportunities, to utilize agricultural land which is lying fallow, primarily arise in four areas: (1) "grow what you eat and eat what you grow", (2) produce to reduce the food import bill, (3) pursue tourism linkages and (4) respond positively to the Global Business Innovation Corporation's global market pull initiative.
Land for crop production and processing is paramount and these commodities include ornamentals, fruits, herbs, spices, oil, organic, aloe vera, cotton, sugar cane, vegetables, roots, cereals and grains.
Livestock (fresh or processed) includes eggs and poultry, pork, dairy, beef, lamb and chevon. Other opportunities include forestry, craft, sericulture, vermiculture composting, aquaculture, exotic aquarium fish, industrial mining and recreational, hospitality and ecotourism.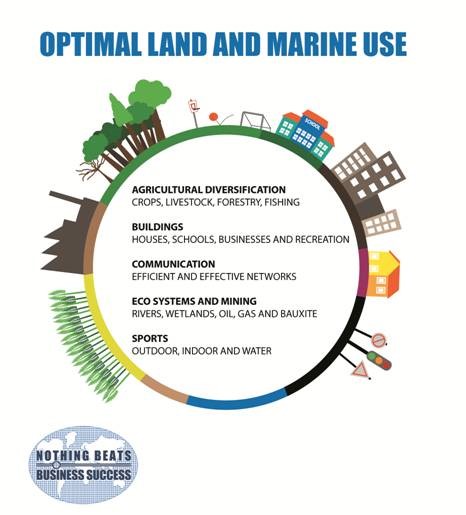 Land and marine resources are a blessing to us all. Let us not let them lie idle but exploit them to the fullest for the benefit of mankind.