"Do nothing out of selfish ambition or vain conceit. Rather, in humility value others above yourselves." – Philippians 2:3
Last week I was invited to be a guest lecturer to a cohort of 20 participants taking the postgraduate diploma in public sector management at the Sagicor Cave Hill School of Business at the University of the West Indies in Barbados.
My topic was "National Strategic Leadership and Governance – Smart Solutions". It was a wonderful two-hour interactive session with 20 civil servants, the majority of whom were female, spanning all ministries of government.
They all agreed that there is a crisis today in small economies which is manifested in declining socio-economic fortunes and impacts happiness and we must find a solution as soon as possible.
They empathized with the adage "Vision without action is mere fantasy; Action without vision is folly; Neither Vision nor Action reeks of irresponsibility; Vision and Action induce Synergy" and supported the view that Strategic Leadership (Vision), Governance (Policy) and Management (Action) needed to be revisited in national economies if we hope to change the status quo.
In the current system, the rich get richer and the poor get poorer. The question I posed was "how do we convert the assets of poor (ideas, work and savings) into capital (Hernando de Soto)?" My thesis was that if we were to be successful in doing this, the rich would continue to get richer but the poor would get richer too (they would be rescued) and we would have embarked on a journey to national economic recovery and sustainable economic growth.
I proposed eight areas which needed to be aggressively addressed with Vision and Action. Quite early on in the interactive session, these were increased to 10 as follows: (1) Constitutional Reform, (2) Public Private Partnership, (3) Political System, (4) Local Government, (5) Innovative Taxation, (6) Restructuring  Debt, (7) Reduction in Government Expenditure, (8) Economic Growth, (9)  People Development and (10) Land Use.
I then led the session to suggest 10 effective smart solutions to arrest the inertia and turn the economies around. These smart solutions were inspired by the publications (1) "Small is Beautiful – Economics as if people mattered" by Dr. E.F. Schumacher (book), (2) "My Barbados – The Way Forward" by Dr. Grenville Phillips (a 2018 Barbados newspaper article),  (3)"The Singapore Advantage" by Singapore Economic Development board (a 2007 PPT presentation to Dr. Carlisle Boyce and myself), (4) "The Mystery of Capital" by Hernando de Soto (book which was used as the basis for my 2002 lecture to students at University of Michigan on "Addressing Caribbean Economic Issues through Innovative Holistic Capital Partnership Initiatives") and The 3M Shepherding Model, a homegrown Caribbean enterprise development concept which has evolved over the past 20 years.
These 10 Smart Solutions, in turn, will be the subject of this column beginning next week.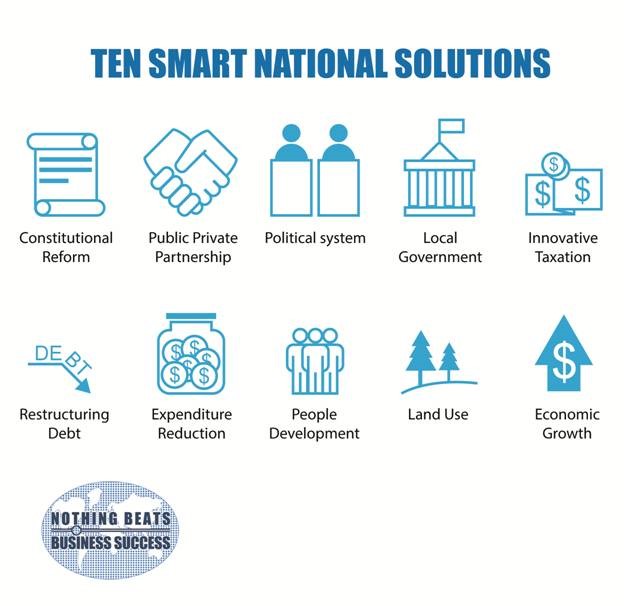 The definition of insanity as "doing the same thing over and over again and expecting different results" is usually attributed to Albert Einstein. Caribbean leaders and leaders of small states may be accused of doing the same thing over and over again with the result of declining socio-economic fortunes which impacts negatively on our happiness.
Our leaders must snap out of it and implement smart solutions if we are to stop the haemorrhaging, reverse the trend and move along a path of harmony, light and love in search of happiness for all.