LESSONS FROM SINGAPORE – BASIL SPRINGER COLUMN APRIL 2, 2018
"So he Shepherded them according to the integrity of his heart and guided them with his skillful hands." –  Psalm 78:72
This is the second article of four in this mini-series on vision and leadership transformation. The mini-series has been inspired by John Maxwell's book "The 5 Levels of Leadership – Proven Steps to Maximize Your Potential".
Maxwell's Levels are: (1) Position – It is a great place to visit but you would not want to live there; (2) Permission – You cannot lead people until you like people; (3) Production – Making things happen separates real leaders from wannabes; (4) People Development – Helping individual leaders grow extends your influence and impact; and (5) The Pinnacle – The highest leadership accomplishment in developing leaders to Level 4.
The first article addressed the core issues of a "Long Term Recovery Process" for small states in particular. Singapore grew from a sleepy fishing village with a threat of communism in 1959 and is now a first world country. The question today is "how best can Singapore's Leadership Lessons impact the development of small states today?".
In the penultimate column we shall address how the "Mystery of Capital" can reveal solutions for a more equitable share of national wealth and, in the final column in the series, we conclude by promoting a homegrown integrated solution with a focus on "Nothing Beats Business Success".
How do our leaders measure up to vision and leadership the Singapore way?
Access https://www.inspiringleadershipnow.com/lee-kuan-yew-top-leadership-lessons for the 10 top leadership lessons which may be learnt from Singapore's legendary late leader. They may be summarized as follows:  Discipline, Vision, Devotion to a Greater Good, Perseverance, Results-Oriented, Integrity, Opportunity for All, Inspired by Great Role Models, It's All About Developing People and Robust Succession Planning.
The secret of sustainable trade is to establish relations globally and continually increase supply driven by diversified global demand. Whereas air and sea transportation is essential for the expansion in tourism and the trade in products and services, economic diversification in the trade of some ICT services means that our information super highway must be built and maintained in response to the growing demand for internet-based trading.
Although Singapore is cosmopolitan, English is spoken by all. There is a high quality of life. According to a taxi driver: "In Singapore you can work as hard as you like and buy anything for your family". Singapore demands that they have the best human resource for a given job – man or woman, Singaporean or non-Singaporean. Foreigners are welcomed and encouraged to train Singaporeans. Foreign students are warmly received at Singapore's institutes of higher learning.
Singapore's reliability is paramount. A low investment risk attracts Foreign Direct Investment. Top corporate governance engenders credibility. "Made in Singapore" is associated with the highest quality and Singapore is the least corrupt country in Asia. Many multinationals, including all the world's major oil companies, implicitly trust the local environment and have a presence in Singapore. Singapore is a natural trading hub for all countries within 12 hours flying time radius from Singapore.
Singapore understands that a  vibrant enterprise ecosystem with a strong enabling environment is required to foster enterprise development in an economic gearing system where multinational corporations are fed with services from entrepreneurial start-ups and emerging business to stimulate the environment for growing an enterprising work force. Singapore is #1 in Asia for ease in doing business and has a highly productive workforce.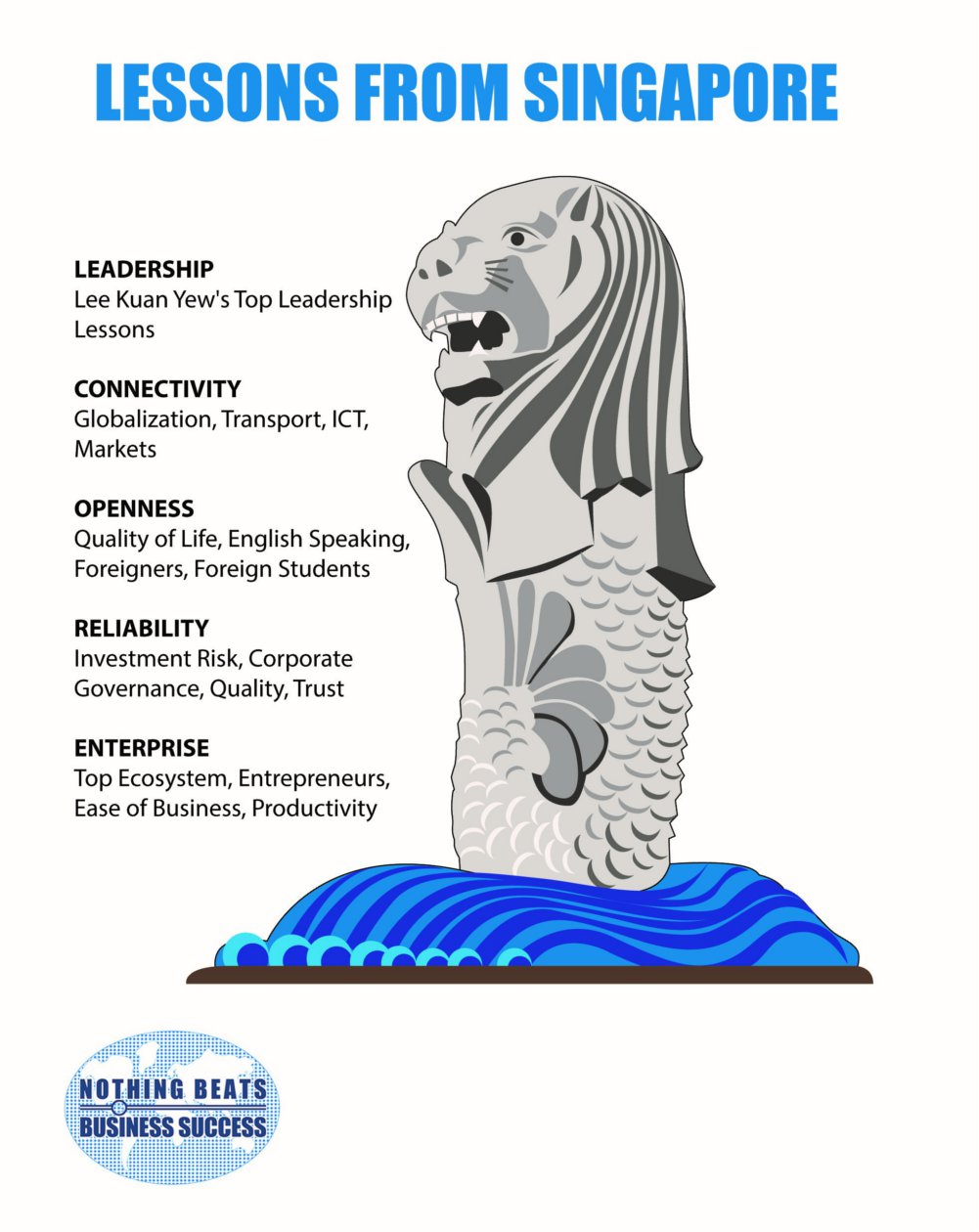 A good leader is not necessarily one who can float at the top of a successful organization but one who can turn a company around when fortune is against it. When the going gets tough, the tough get going!
Let us adopt a sequential evolutionary approach to maximize our management potential as we move into leadership positions, embrace the people that we serve, make things happen, and help others grow by example.