"But you, dear friends, by building yourselves up in your most holy faith and praying in the Holy Spirit, keep yourselves in God's love as you wait for the mercy of our Lord Jesus Christ to bring you to eternal life." – Jude 20-21
At the funeral of a dear friend a week ago, the homily was focused on the importance of prayer. My understanding of the Anglican pastor's message was that he was reminding us of the importance of prayer to continually communicating with God on every aspect of our lives and to stay at the center of God's love on our journey to eternal life. He was speaking to a mixed audience and certainly for me his message had an unusual positive impact and was very well received.
In particular, he stated that when we pray to God, foremost in our minds should be "Your will be done" and described this as the purpose of prayer. He added that anyone who is not on this wavelength, now is the time to change the channel. This was a reminder to us that we are to pray for God's plan in our lives and the world rather than to become too obsessed with our own plans.
As in any good communication process we need an efficient feedback loop. We must pray, yes, but we must also listen to what God is saying to us to condition our minds to facilitate the all-embracing effectiveness of "Your will be done".
This reminded me of a piece I had written in this series almost six years ago entitled "The Spiritual Blanket". Here is an extract from that column.
"In order for our leaders to avoid crisis and to move along a renewed path towards the creation of a Caribbean Empire, I suggest that they should position themselves to become spiritually attuned, seek refuge on a spiritual blanket and receive the whispers from God.
"There are several different types of blankets. A security blanket is carried by a child to reduce anxiety and to increase comfort. An electric blanket is designed to induce coziness on a cold wintry night. A fire blanket is a large blanket-like piece of fire-resistant material to protect you from impending disaster. A space blanket is a plastic insulating body wrapping to protect climbers and mountaineers, for example, from exposure or exhaustion. A wet blanket is used to describe a person who discourages enjoyment or enthusiasm. A spiritual blanket contrasts with a wet blanket in that it is a virtual creation which exudes a tranquil, serene and idyllic environment and allows one who is spiritually attuned to receive the whispers from God who has overcome the world and brings peace to all mankind. What a wonderful gift, how many of us are tuned in?"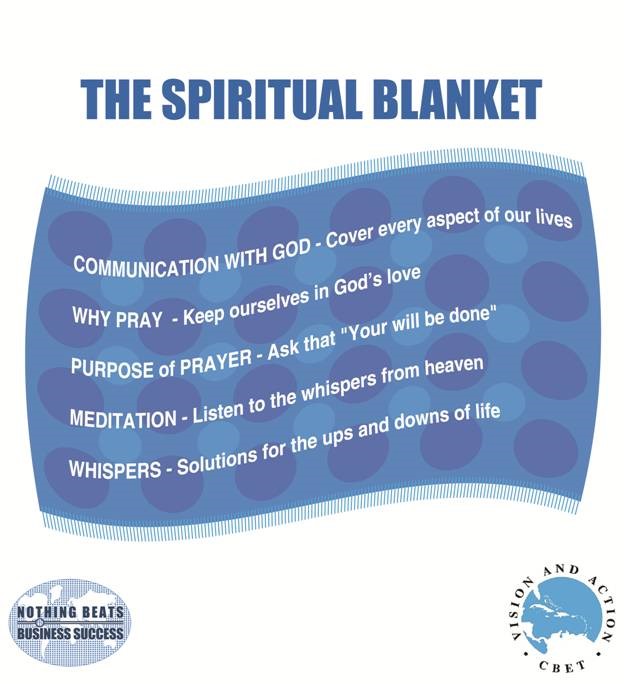 Let us continue to communicate with God through prayer and nestle in the comfort of our spiritual blanket to listen to His whispers. This feedback conditions our mind and helps us with the ups and downs of life.