"After this I looked, and there was a great multitude that no one could count, from every nation, from all tribes and peoples and languages." – Revelation 7:9
Just over a week ago, former U.S. President Bill Clinton spoke on a range of trending topics as hundreds of mayors convened on Miami Beach for the U.S. Conference of Mayors' 85th Annual Meeting.
There are a few statements he made that tickled my fancy. Diverse groups make better decisions than homogeneous groups or lone "geniuses"; Economics is about addition, not subtraction; Creative societies are about multiplication, not division; and Good politics is about problem solving and not the abuse of power.
I am privileged to have been part of the Commonwealth Partnership of Technology Management (CPTM) for more than 20 years. CPTM promotes the Smart Partnership philosophy and one of its basic tenets is Diversity.
Over the years, the concern for the environment evolved into a commitment to sustainable development. In line with these evolving needs and insights, CPTM has developed a unique set of tools to contribute to the development of emerging economies. The CPTM approach is based on exchange of knowledge and ideas, open dialogue with all stakeholders and creating partnerships and win-win situations. The Caribbean would do well to review and adopt this philosophy as other African, Mediterranean and South-East Asian emerging economies have done.
Singapore is my favourite example of a small island developing state which has experienced a metamorphosis in economic status over the last 60 years. Their philosophy in a naturally diversified cultural environment has been to focus on Connectivity (taking advantage of their strategic geographical position and fully utilizing the technology of the Information Age); Openness (opening their borders to attract the best and developing their own people to the fullest); Reliability (good governance, low investment risk, customer satisfaction, operational efficiency and a trusting society); and Enterprise (enterprising workforce, good enabling environment, ease of doing business and high productivity). This is the C.O.R.E. strategy in "The Singapore Advantage" thrust. The Caribbean would do well to review and adopt this example with an open mind.
As I embark on the 25th year of writing this weekly column, I am humbled by the global responses that I get from readers and their offers to distribute the column to their own network of friends and professionals. These responses stimulate my thoughts and strengthen my resolve to continue this enjoyable process. Thank you.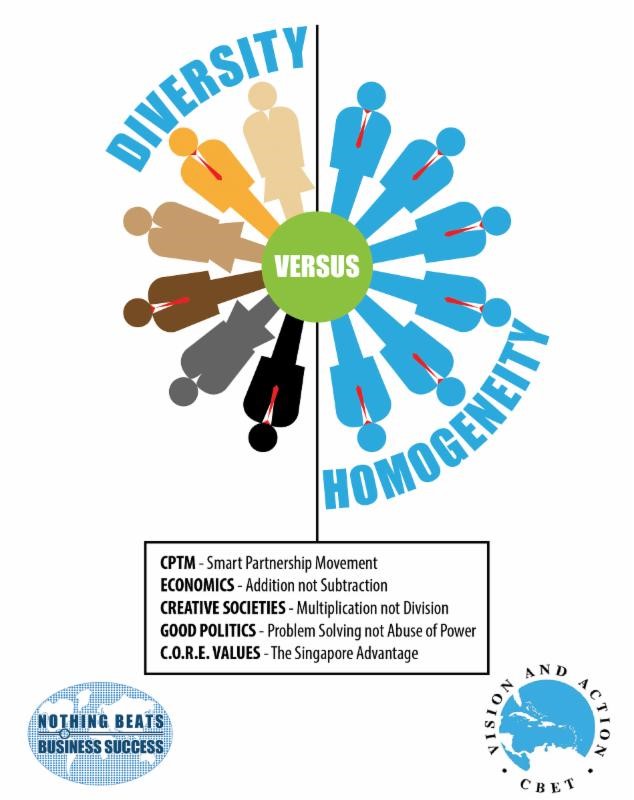 As we see God abundantly and uniquely expressed in the diversity of plants and animals on earth (an early morning walk is ideal to absorb such an experience), let us map this into all aspects of our social, economic and political behaviour so that cultural diversity will transform our communities into nuclei of power, the amalgam of which will eventually lead us in the direction of sustainable development.