"And Jesus said unto them, Because of your unbelief: for verily I say unto you, if you have faith as a grain of mustard seed, ye shall say unto this mountain: Remove hence to yonder place and it shall be removed and nothing shall be impossible unto you." – Matthew 17:20
"Ask, and it will be given you; search, and you will find; knock, and the door will be opened for you." – Matthew 7:7
"Our great weakness lies in giving up. The most certain way of success is to try just one more time." Thomas Edison (1847-1931)
All three of the above references are relevant to today's theme and I hope that at least one of them will impact someone who will in turn draw it to the attention of our decision makers.
Speaking in parliament last week, the Barbados Minister of Finance was quoted in the press, in the context of  the continued subsidization of the Barbados sugar industry, as saying: "I am not an agricultural expert and I am certainly not a sugar expert but I know that if we take the example of what other countries have gone through and the environmental, ecological, economic, social and other challenges that have emerged from a disorderly exit from sugar, we know that Barbados, being the type of economy that it is, can ill-afford that type of luxury, if ever it could be described as a luxury".
The problem to be solved is not the exit from sugar, it is the effective use of our arable land to develop an agricultural industry, including sugar as appropriate.
The major assets in Barbados include the climate, arable land and people. History reveals that it was the exploitation of these resources, albeit with slave labour, that resulted in the establishment of the sugar industry in the mid 17th century. Now that sugar, in its original context, is a "sunset" industry, Barbados should be looking for "sunrise" agricultural industries to utilize the vacated arable lands most of which are now lying fallow and in bush.
As an example as to what is possible, a forward thinking farmer, after trying his hand at many agricultural exploits, has taken advantage of the opportunity to put less than a thousand acres of this idle land back into production with a vertically integrated sweet potato project where the farmer cultivates land, grows the crop and processes it into sweet potato fries. This displaces imports of white potato and sweet potato fries and creates an export opportunity. The result is a net foreign exchange gain.
There are many agricultural opportunities which can utilize the approximately 30,000 acres of land in Barbados in response to the potentially very profitable global market pull for tropically produced fresh and processed products.
First of all we must believe that developing a modern agricultural industry can contribute to growth in Barbados. Next, if the Minister of Finance is not an agricultural expert and not a sugar expert then "ask, and it will be given you; search, and you will find; knock, and the door will be opened for you." Thirdly, the most certain way of success is to "try just one more time".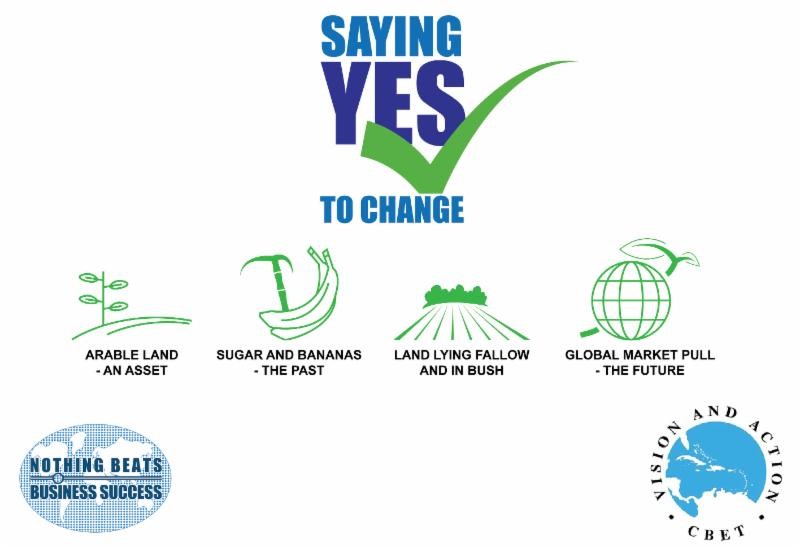 Let us follow the three-pronged strategy of Joan Borysenko, Ph.D. in her book "Saying Yes to Change: Essential Wisdom for Your Journey" co-authored with her husband, Gordon Dveirin, where they advocate three stages of transformation: (1) Separation – The Journey Begins; (2) Dwelling at the Threshold – Surrendering to the Unknown; and (3) The Return – Transformation and Rebirth.
(Dr. Basil Springer GCM is Change-Engine Consultant, Caribbean Business Enterprise Trust Inc. – CBET. His email address is basilgf57@gmail.com and his columns may be found at www.cbetmodel.org and www.nothingbeatsbusiness.com.)