"He who supplies seed to the sower and bread for food will … increase the harvest of your righteousness." – 2 Corinthians 9:10
Once again, I join my fellow Trustees of the Graham Gooding Trust in commemorating the late E.G.B. Gooding (1915-1987) by observing Eat Bajan Day on Friday, October 7, 2016.
In the same way that God gives us 24 precious hours every day as a potential lever to prosperity, this most generous God provides seeds to the farmer. The intelligence in those seeds is then converted through the food chain into nourishment for our bodies thus satisfying one of the "basic needs" of mankind. The others being water, shelter, clothing, sanitation, education and healthcare.
The following is an extract from the book "Wabi Sabi: Timeless Wisdom for a Stress-Free Life" by Agneta Nyholm Winqvist: "There are studies made on children where they have been given something similar to a huge smorgasboard…The study revealed that over the course of a few weeks, their more than modest diet provided them with a good nutritional intake…Maybe we do not need to make food into such a big deal, but rather eat simpler, purer and more naturally and listen to our bodies instead of all the dieting advice…Wabi Sabi stands for eating as simple and respectfully as possible. When we do this it becomes natural to take it one step further and eat local food…Food is not a human right, it is a gift. It is not until we are without food that we realize the depth of this gift."
Given that nearly a billion people in the world go hungry on a daily basis, the Barbados population is generously blessed in this 50th year of Independence.
In Barbados and throughout the Caribbean we are fed with an annual diet of budgetary proposals where more ways of taxing a stagnant economic sector are sought within an already inefficient tax collection system. Would it not be simpler to expand the economic sector and then automatically the indirect taxation net would be wider and the yield greater. We need to creatively incentivize the persons holding the wealth so that it can be accessed for investment in the expansion of the economy.
Food is one obvious sector which could be expanded and enterprise development another. Tourism is a major sector in the Caribbean – the tourists have to be fed, why not feed them on an "Eat Bajan" diet? The food import bill keeps growing and growing – why not replace these imports with locally produced food and save foreign exchange? Tourists can be great ambassadors for the Eat Bajan thrust as they return home and spread the word.
The Global Business Innovation Corporation (GBIC) embarked on a  journey to become the new global aspiration. GBIC believes that the Caribbean can inspire the world, levering food as a business example. Inthe same way we use nautical maps to discover new destinations, GBIC is projecting new high value food horizons for the Caribbean to transform the region's agricultural, agro-processing, food and beverage sectors, and to drive economic growth, tourism and employment.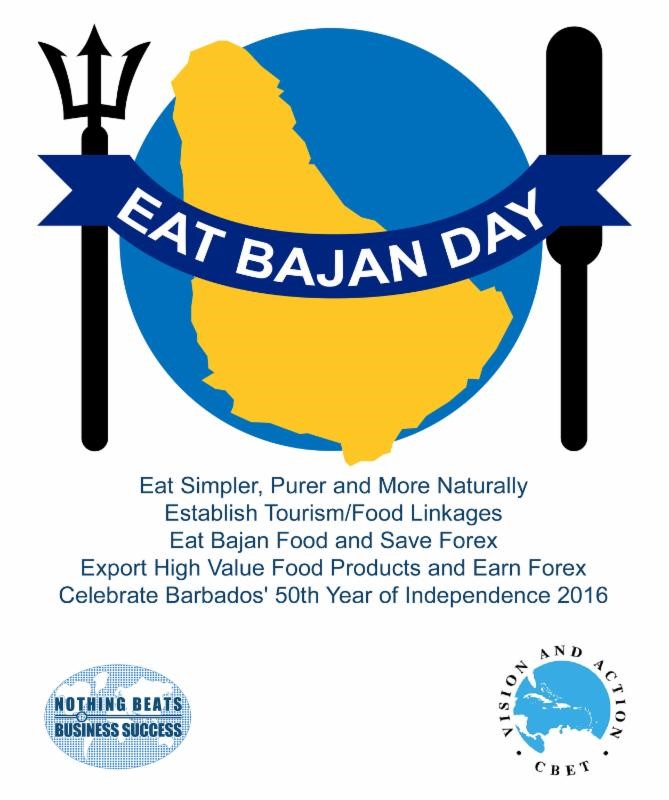 As we learn from www.dailyword.com, prosperity is the divine inheritance of every person. Let us plant these thoughts in the fertile soil of Divine substance and weed out any thoughts of lack or limitation that may be spoiling the fruits of our labour. Let us focus on ideas of abundance and sufficiency and utilize every acre of arable land for the production of food. Then and only then shall we truly "Eat Bajan" at home and abroad.
(Dr. Basil Springer GCM is Change-Engine Consultant, Caribbean Business Enterprise Trust Inc. – CBET. His email address is basilgf57@gmail.com and his columns may be found at www.cbetmodel.org and www.nothingbeatsbusiness.com.)